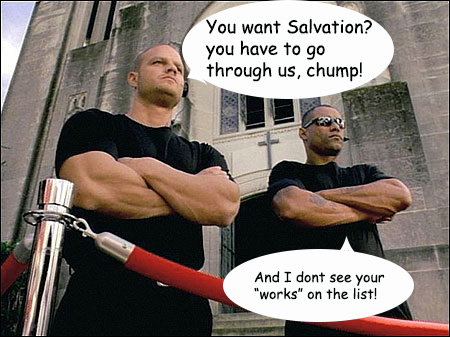 July 8, 2010
Religion – Acts of Justification
In the last post, we saw that when we do something wrong, we feel guilt which drives us to seek some type of justification for our wrongs.  We can either choose the "Justification of God", which begins with contrastive thinking and can lead to God's righteousness, or we can choose the "Justification of Man" which begins with comparative thinking.  This week I want to begin examining another aspect of Justification of Man.
The last post also showed that Justification of Man consists primarily of denial or rationalizations; thing we say or think to justify ourselves.  This other aspect consists of things we do to justify ourselves.  I call them "Acts of Justification" – more commonly known as "Religion".
I'm not religious.  I promise!
One of the most controversial pages on this blog seems to be the "About Me" page.  (I never thought my identity would stir up so much trouble).  I've received several public and private comments deriding my statement that I am not religious. Some people think I'm delusional (which is fine, I've been accused of worse).  Or they superimpose their own definition of religion (ignoring the one I give), and accuse me of heresy.  The truth is, the reason I am not religious is because I want to go to Heaven, and religion won't get me there.  Hopefully this post will add some clarity to my position.
If you ask the average person how you get to heaven or earn God's favor, they will probably tell you that have to be a "good person" (a good person being someone who behaves in a socially acceptable manner and performs some degree of charitable actions or "good works").
Good isn't good enough
There are a couple of huge problems with this idea.  The first problem is that "good", in this case, is an extremely subjective measurement.  What one person considers good may not be good or even acceptable by the standards of another person or culture.  Furthermore, just how "good" do you have to be to please God?  Its not like we have a cosmic "goodness meter" we can check.
That's where religion starts to come in.  Islam tells us that if our good works outnumber our bad works at the end of life, then we go to heaven (and if you martyr yourself while killing infidels you get to have sex with 70 virgins when you arrive (I'm not sure how appealing that prospect is to women…)).  Hinduism tells us that by doing enough good works and earning good Karma during our lives, we will be reincarnated as a higher being (and if we earn bad Karma we'll come back as a dung beetle or a Kardashian).  Buddhists . . . well, they believe that the meaning of life is to achieve "nothingness" so their opinions are irrelevant.
Even some "Christian" organizations teach that we can only reach Heaven by being a part of their specific congregation, abiding by their definitions of good works, and performing their rituals in order to please God.  So there is not much of a consensus on how to be "good enough" to get to Heaven.
The other huge problem is that the Meaning of Life post showed that you only get to Heaven by being like God.  You don't get there by racking up "goodness points", you get there by being righteous, and being right begins with contrastive thinking.
Religion is not contrastive it is comparative.
The problem with religion
Remember, when we do wrong, we have a guilt-debt to pay.  We inherently know that we owe that debt because of the existence of Right and Just. Those of us who acknowledge God as the embodiment of righteousness and justice understand that the debt we owe is to God.  Performing good works in order to try to please God is the act of attempting to balance the scales of justice with our own efforts.
This is Religion.  The insidious thing about this kind of justification is that it seems like you're being contrastive at first.  You do acknowledge your wrongs, but instead of turning to God for righteousness, you try to cover your bad actions with good actions. This is the opposite of Justification of God.  This is another form of Justification of Man.  Justification of Man is comparative thinking.  Comparative thinking is Pride.  Religion is an act of pride.  It is impossible to be like God when you act in pride.
So am I saying that it is wrong to do good works?  Or course not.  Being charitable, helping others, and being kind are all great things.  Even performing religious rituals is not bad in and of itself.  Its not so much what you do, it's the motivation behind what you do.
If your good works are performed to justify your wrongs, appease God's justice, or earn salvation, then it is Justification of Man.  Nothing we do, no effort we make on our own, can ever undo the wrong we committed.  Believing that it can, will lead you away from God because anything you do to justify yourself is pride.
The meaning of life is to be like God.  To be like God, you have to be righteous.  To be righteous, you have to be contrastive.  Religion twists contrastive thinking and increases comparative thinking.  Religion is Acts of Justification that lead away from God's plan.
And that is why I am not religious.
In the last post I mentioned that religion has the most damaging effects of any form of justification.  I'll explain why next week.
Remember to subscribe to this blog to receive new posts when they are published