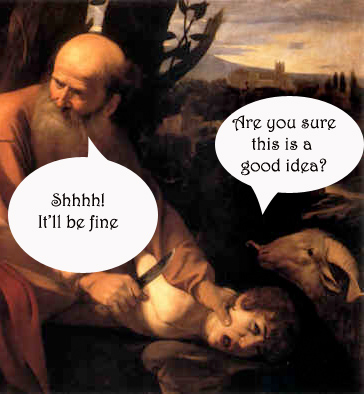 January 28, 2011
Faith part 2 – Evidence For Hope
The second dispensation failed because the people of that had great knowledge, but they relied on knowledge alone to form their worldview.  They did not believe in anything they did not know completely, therefore they did not fully believe in God.  They lacked faith.
Generally speaking, faith is the willingness to rely on something that we do not have full knowledge of.  We also learned in the last post that faith can either be reasonable or irrational based on the object that one chooses to have faith in.
Faith is obviously a vital component of any belief system because none of us has all the knowledge in existence. Only God has that level of knowledge, therefore it takes some degree of faith to believe in anything that we don't fully know – including God.
But does faith in God fall into the category of reasonable faith or irrational faith?  And for that matter, how does God define faith?
A clear definition
Fortunately, faith is one of the terms for which the Bible provides a direct definition:
Now faith is the substance of things hoped for, the evidence of things not seen. – Hebrews 11:1 (NKJV)
The key terms in this definition are "hope", "evidence", and "the unseen" (or unknown).
Hope is the expectation of a positive occurrence.  From a Biblical standpoint, it would be the expectation of something good.
Evidence is empirical validation learned via direct or indirect means – either by knowledge or experience.
The unseen is that which is not fully known and/or that which has not been experienced.
So, Biblically speaking, faith is the expectation of something good, from a source or object that is not fully known, based on some previously validated knowledge and/or experience with the source.
This definition definitely meets the criteria of reasonable faith presented in the last post.
The Faith Hall of Fame
Hebrews chapter 11 is known as the "Hall of Faith".  After giving the definition of faith, the writer provides examples of Biblical characters who demonstrated their rational faith by their expectation of good based of previous knowledge and experience with God.
One of the examples is the narrative of Abraham's willingness to sacrifice his son Isaac (which we looked at during our examination of love).  If Abraham's first encounter with God was simply an arbitrary command to drag his beloved son up a mountain and plunge a knife in his chest just for the hell of it, then Abraham's willingness to do so and hope for the best would be an example of irrational faith.
Heroes aren't born, they're made
However Hebrews 11: 8-16 shows that Abraham's history with God consisted of progressive experiences of God's unwavering and miraculous commitment to Abraham's prophetic destiny to be the father of a great nation.  After decades of this knowledge and experience Abraham willingly obeyed the command to sacrifice Isaac under the reasonable presumption that God could not break His covenant.  Abraham had so much faith in God's nature that he presumed that if he killed Isaac, God would have to resurrect him is order to keep His promise!
This type of faith is evident throughout the Bible.  When God requires an act of faith from anyone in the scriptures, it is always based either on knowledge that the person has or their prior experience.
That standard of faith has not changed.  If anyone today chooses to have faith in God, that faith is only reasonable if it is based on knowledge and/or experience.  The primary reason that I titled this blog "Faith by Reason" is that my main goal is to progressively give logical reasons (knowledge) for faith in God (plus its sounds better that my original title, "Mabrie Explains it All!").  The first 12 posts in the blog give reasons to believe in God based on knowledge.
So we now see that despite claims to the contrary, the faith required by the God of the Bible is reasonable.  But why does God require it?  Why is faith so important to God's plan? Next time. . .
Remember to subscribe to this blog to receive new posts when they are published