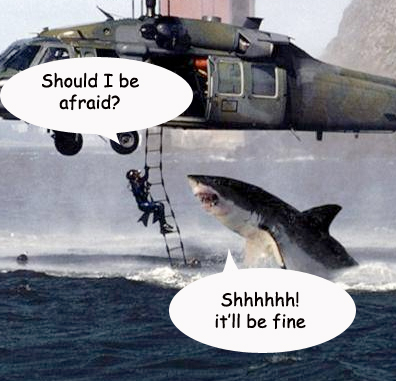 March 29, 2011
Faith part 4: Fear Factor
In the last few posts, we have been examining faith. Generally speaking, faith is the willingness to rely on something that we do not have full knowledge of.
Biblically speaking, faith is the expectation of something good, from a source or object that is not fully known, based on some previously validated knowledge and/or experience with the source.
Be afraid
There is another "faith based" reaction to that which is not fully known.  There are circumstances where we react to what we do not know with some level of trepidation instead of hope.  This reaction is called "fear".
Like faith, fear can be reasonable or irrational depending on whether or not it is based on knowledge and/or experience.
It is reasonable and sensible to be afraid if you are walking in a high crime area, being tailgated by a teenage driver, or swimming in shark infested waters.  Why?  Because we have knowledge (or experience) that crimes tend to happen in high crime areas, teenagers are clinically insane, and sharks tend to bite the living  $#!&% out of people whenever they get the opportunity.
Reasonable fear can be defined as the rational mindfulness of something that has the power to affect us.  Another word that can be used as a definition of reasonable fear is "respect"
The dark side of fear
The type of fear that will be the focus of this post is irrational fear – Fear that is not based on knowledge and experience – fear of the unknown.
Irrational fear is that general, undefined dread that people often feel without any logical reason.  This fear is so common that it has become a major aspect of clinical psychology where it is known as "anxiety".  It can manifest as anything from simple anxiousness, and obsessive-compulsive activity, to debilitating panic attacks.
This type of fear is actually the antithesis of Biblical faith.  Biblical faith is the expectation of something positive based on knowledge.  Fear is the expectation of something negative based on the unknown.
Should we be afraid of God?
In the Bible we are told to "fear God".  It doesn't mean we are to quake before Him in primitive dread of His arbitrary whim.  It means we should demonstrate a rational respectfulness based on our knowledge of His power and His nature.
There are nearly 200 admonitions in the Bible that we not be fearful or anxious.  Those admonitions generally refer to fear that is not based on knowledge.   For example, just about every time people witness the appearance of a supernatural being in the Bible, there first reaction is to be paralyzed with fear (or worse) because they don't understand what they are seeing.  At this point, the being quickly tells them not to be afraid, and then gives them knowledge to help them understand.
Why is admonition against irrational fear so prominent in the Bible?
If you have no knowledge of a situation that is causing you fear, then you have a choice to be comparative or contrastive.   The contrastive choice is to either cognitively acknowledge that it is pointless to fear the unknown, or rely on a source that has some level of knowledge of the unknown thing you fear.  The comparative choice is to rely on yourself to deal with the unknown situation; but since you have no practical knowledge, you will either become paralyzed by the fear or you will take destructive (evil) actions.
Love is the answer
The Bible does offer a remedy to fear – that remedy is love!
"There is no fear in love; but perfect love casts out fear, because fear involves torment. But he who fears has not been made perfect in love." – 1 John 4:18
How does love remedy fear?  Remember we defined love in an earlier post as the willingness to give without expectation of getting anything in return.
The common theme in love and fear is "expectation" – fear expects something negative.  Love expects nothing.
Therefore, if you are focused on love (no expectations) then you can't have negative expectations – you can't love and fear at the same time!
We will conclude our discussion of faith by focusing on the cognitive process that acts as the gateway to faith and fear.  Next time, we will examine  "belief".